Pricing and Purchase

DocxManager is for Windows only, don't buy it if you use a Mac.
The license is perpetual, it means that you can use it forever.
And you receive 1-year free software upgrade.
DocxManager software is available as two editions:
Basic
Edition
-
$49
The Basic edition enables project-basis writing. You can combine documents into one final output in the end.
Standard
Edition
-
$79
The standard edition includes all features from the Basic edition, plus all the website publishing (site theming, generation and uploading) features.
l Buy Standard Edition, or
Extend/Renew License
Existing customers can extend their upgrade period here.
The Purchase and Software Activation Process
The steps are simple, the process is like the Microsoft Office activation.
1. By clicking on one of the purchase links above you'll be taken to the "InnovationGear Store" which is hosted by an established third-party payment processing company, there you'll finish the online order process.
2. Once your order is processed, you'll receive your license key(s) through email, be sure your mailbox won't block emails sent from mailer@fastspring.com.
3. Within the DocxManager software you installed, you'll find where to activate your license key, see screenshot below.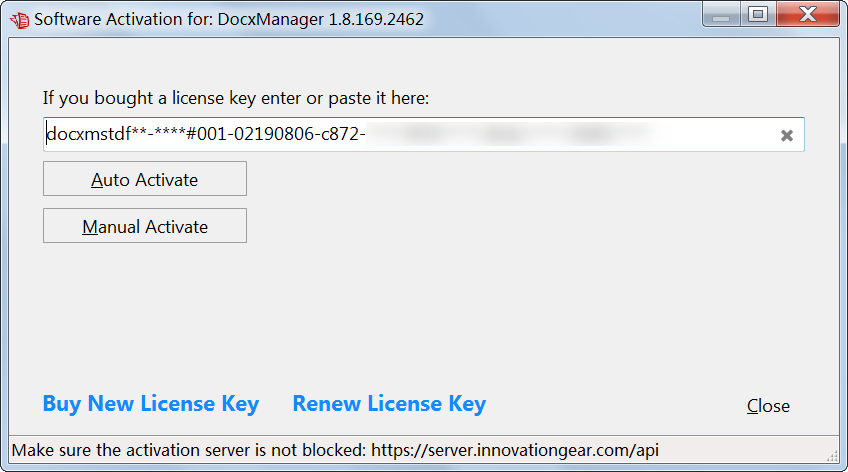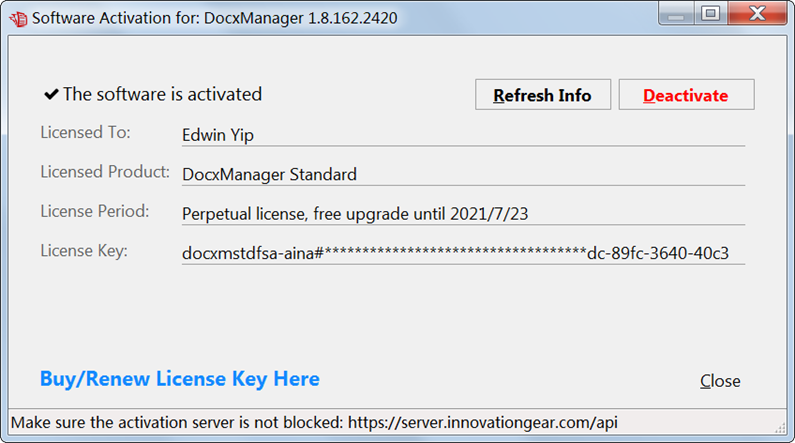 Notes about the Licensing and Software Activation
1. Your license key is perpetual, meaning that your key will be valid forever, with one condition - the key will have to be used with DocxManager versions released within or prior to you free-upgrade period.
In other words, if you don't want to buy upgrades, you can still use your old version.
2. DocxManager will have to access our activation server (https://server.innovationgear.com) during the activation process, and the connection will be securely protected by strong asymmetric encryptions.
3. You can activate your DocxManager on up to 2 computers as long as you are the only user of the DocxManager software.
4. If you migrate from a computer to another you can deactivate DocxManager on the source computer first.
5. You'll get software upgrades and updates within 12 months counting from your purchase date.
After your free-upgrade period, you can extend it for another year.
6. If you might worry about we as a business go out of business and you'll won't be able to activate your DocxManager by then, here is the deal – if that ever happen, we'll modify the software to instead use an offline license registration schema which doesn't need Internet access at all.