This page contains version history of our DocxManager software. You can subscribe to our newsletter to get informed:
V 1.2.90 – Jan 2020
New: The Content Preview panel allows you to view the document content as plain text without having to open it in the new tab first.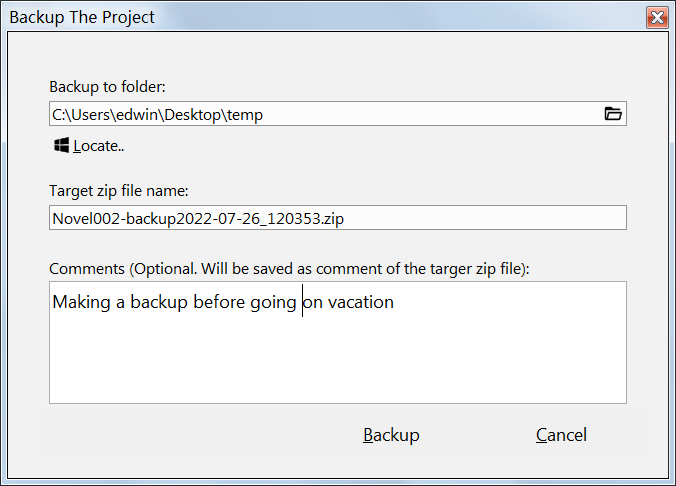 V 1.2.89 – Jan 2020
A bunch of enhancements and fixes, for example, the new popup menu for the document tabs.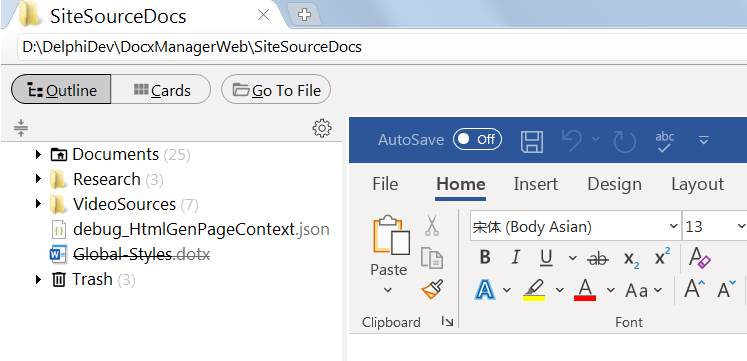 V 1.2.76 – Dec 2019
Fixed a bunch of stability and usability issues which were introduced due to the vast changes in the software for the last new "tabbed" version.
V 1.2.56 – Nov 2019
The user interface has been significantly changed - adapted the tabbed user interface for a greater simplicity.
There are a lot of other changes, see more screenshots.
V1.1.53.1284 – Sep, 2019
Mainly the new Projects page, as shown below: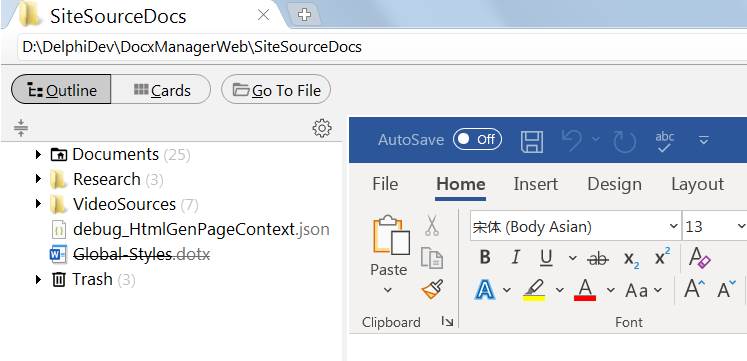 1. Added: A global styles template document will be automatically created for every project.
2. Enhanced: Copying styles from another document is much faster.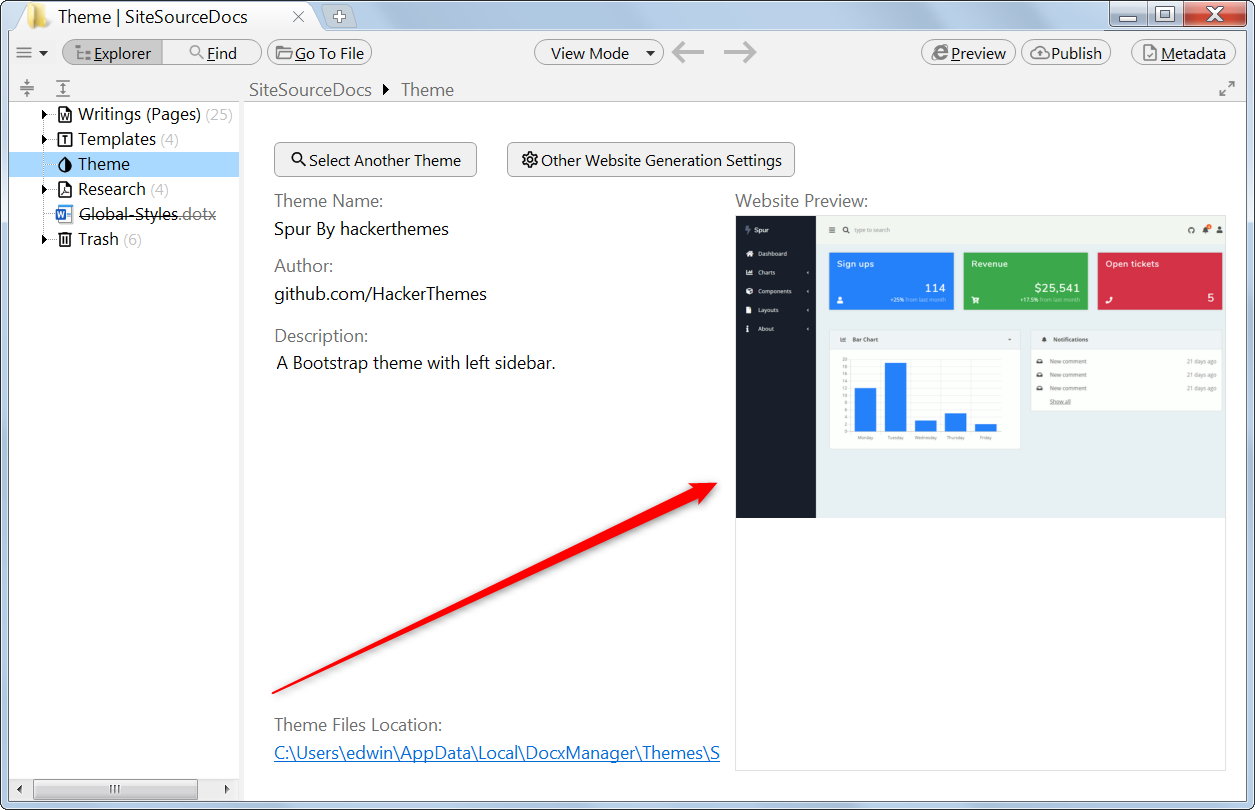 First Release: V1.0.48.1257 - 2019 fall
1. Added the new 'Tagged' (filter by tags) view.
2. Added the new 'Starred' view.
3. Added the new document search box.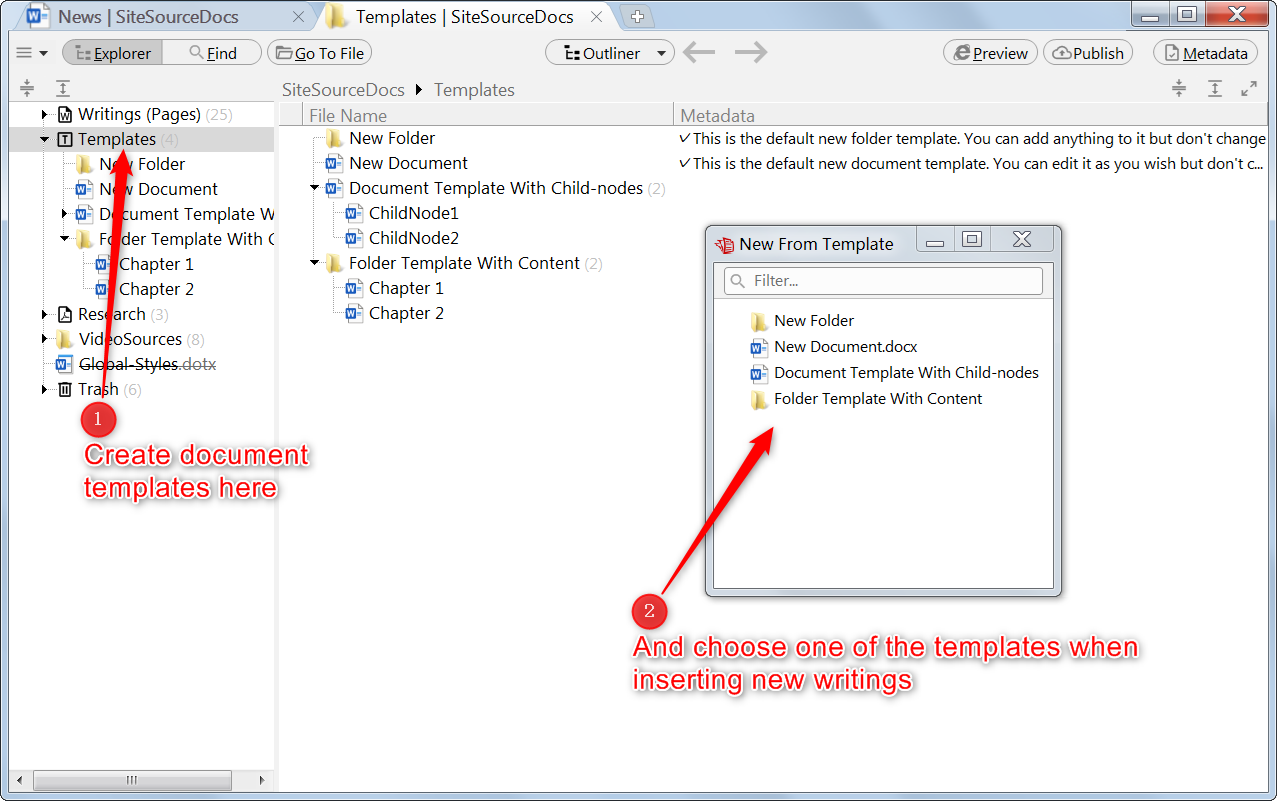 4. The new 'Change Text Size…' feature allows DocxManager to work smoothly under high resolution screen such as a 4K monitor.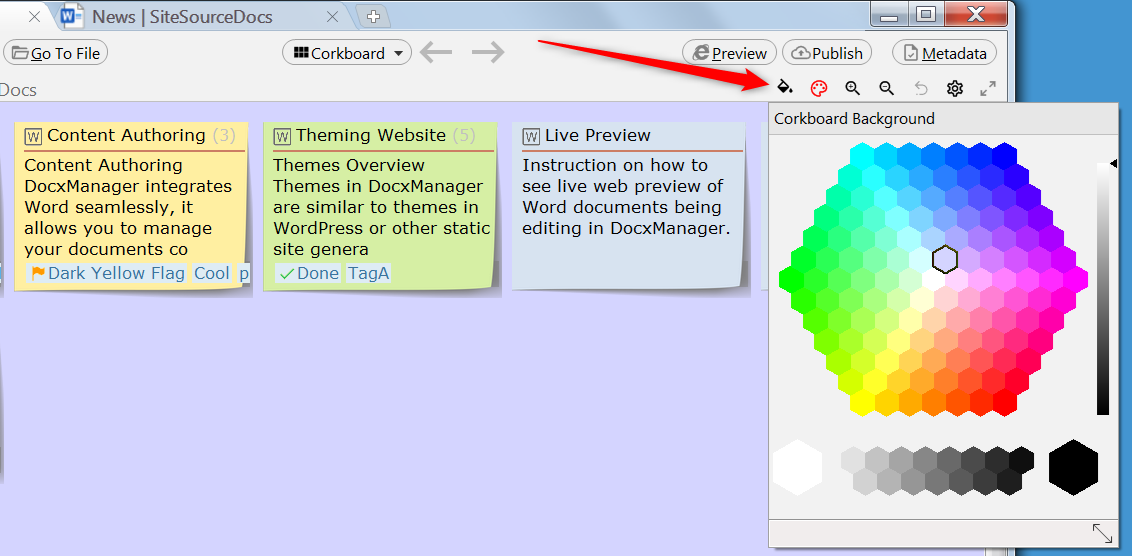 5. Redesigned (simplified) the main workspace window.
6. A bunch of small user interface enhancements.
7. And lots of issues were fixed during the beta test (thank you all, beta testers!).
This is the initial beta test release after a long time development of the DocxManager software – the outliner, document manager and website builder (generator and uploader) for Microsoft Word.
For beta testers: At the moment we have mainly tested DocxManager with Word 2013/2016, and if use other versions of Word please try the software and let us know if you have any problems.
With this initial version you have:
1. The outliner (the integrated File Explorer) works as the main organization tool for your Word documents.
2. Make Microsoft Word embedded into DocxManager's workspace so that you can view and edit your Word documents without leaving the file manager on the left.
3. Document notes, document tags, star icon, and so on for managing your Word documents.
4. Document tabs – navigate and management documents like how you navigate and manage web pages in browser.
5. Compile your documents in a project into a single, merged Word document. This is an especially needed feature for existing Writing Outliner users – most of them are authors writing novels, technical documents, academic documents, and so on, and they use Writing Outliner (now DocxManager to manage their large, lengthy writing projects). At the end, they need to combine all the documents into one for publishing.
6. The most exciting part – generate professional looking websites off your Word documents.
7. Upload your generated websites to a remote web server through FTP.
8. Customize your site's look and feel with themes.
Head to the download page now!