Getting Started with DoxManager
It's easy to start organizing your Word documents with DocxManager.
And it's also easy to generate modern looking websites (like this you are reading) from your Word documents and then upload them to your remote web servers.
You might want to first read How It Works.
The following are the step-by-step quick instructions.
1.
Download and Install DocxManager
a. Go to the DocxManager download page and download the installer program to your computer. The file is named "docxmanager_installer-tmp.exe".
Note: If your anti-virus software report the file is not secure, it's false positive. You can verify it with VirusTotal, the most well-known online virus checker.


b. After the download is completed, double click "docxmanager_installer-tmp.exe" to start the installer and follow the guide.
2.

Run DocxManager
After DocxManager is installed, Find the name 'DocxManager' in your Windows Start menu or desktop, double click to run it, and you'll see the Workspace which is the main window of DocxManager.
3.
Crea
te a New Project
A project in DocxManager is just a folder of Word documents and subfolders in your disk.
You can open an existing folder which already has a bunch of documents, or create a new project folder. This can be done with the main menu at the top-left corner, shown as following screenshot: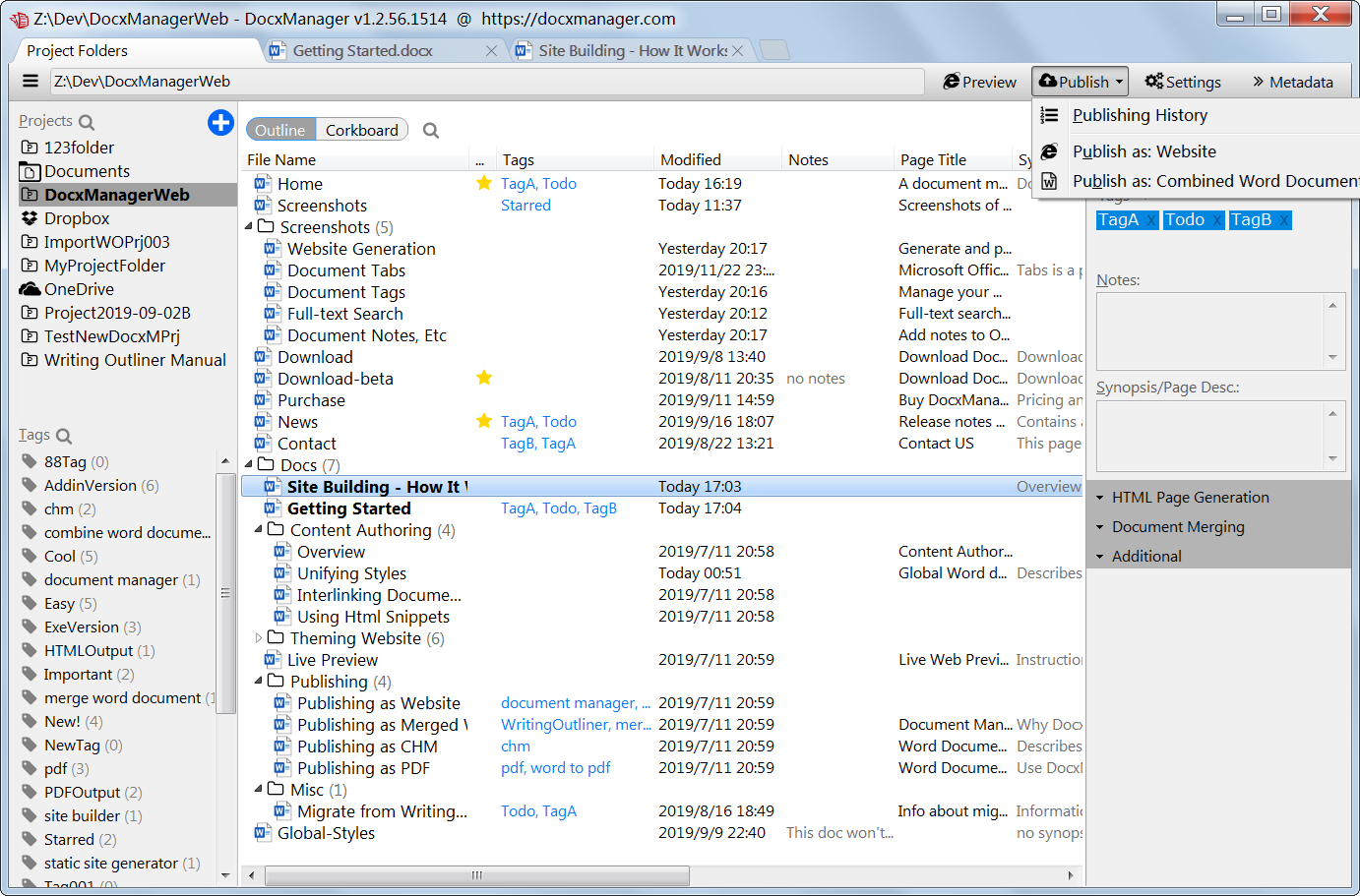 4.
Add New or Import Existing Documents
After a project is opened, on the left side of the Workspace, there is the Outline view which presents the entire folder structure of your project.
Most of your document-level works will be done through the outline view. For example, see screenshot below, to add a new document you have the 'Insert As Child' or 'Insert Below' menu commands. To import a Writing Outliner project, select the 'Import' menu command.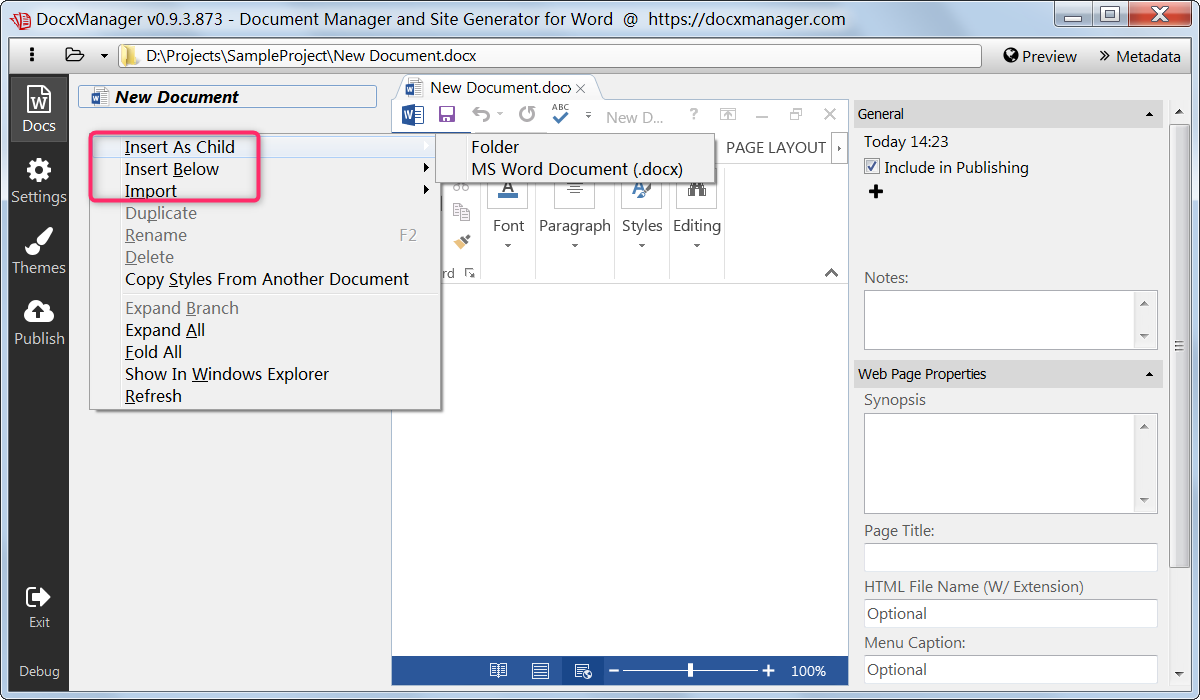 5.
Change Html Page Generation Settings
You can configure various options for each document in the project as to how DocxManager should generate the html page. For example, the Page Title (which will be the browser tab's caption when being viewed), Page Description (which is good for SEO - Search Engine Optimization), Menu Caption (which is the caption of the corresponding navigation menu item), and so on. See screenshot below: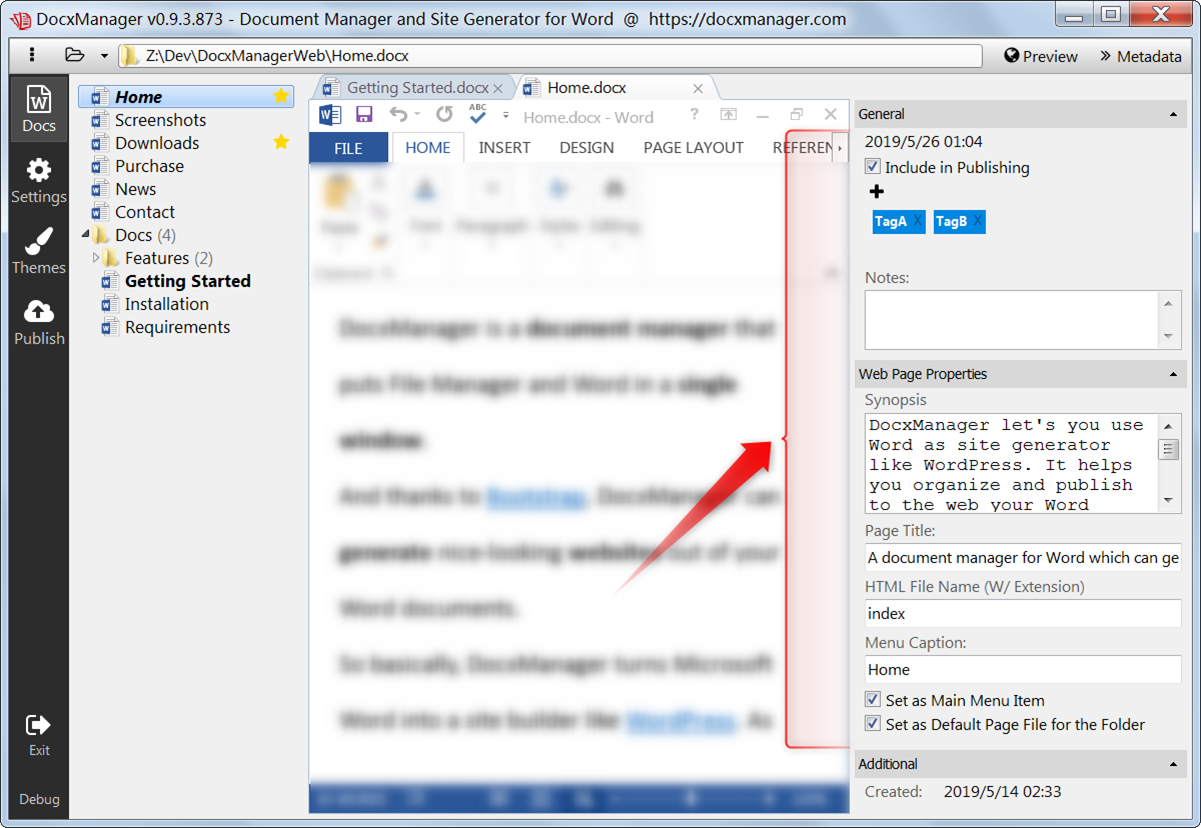 6.
Generate Modern-looking Website
Click Publish on the left navigation bar and you'll see various publishing options, see screenshot below.
Click the Generate button (or pull down that little down arrow for more options) and DocxManager will generate a professional looking website using the theme (more site themes will come and anyone can make new themes) you have previously selected.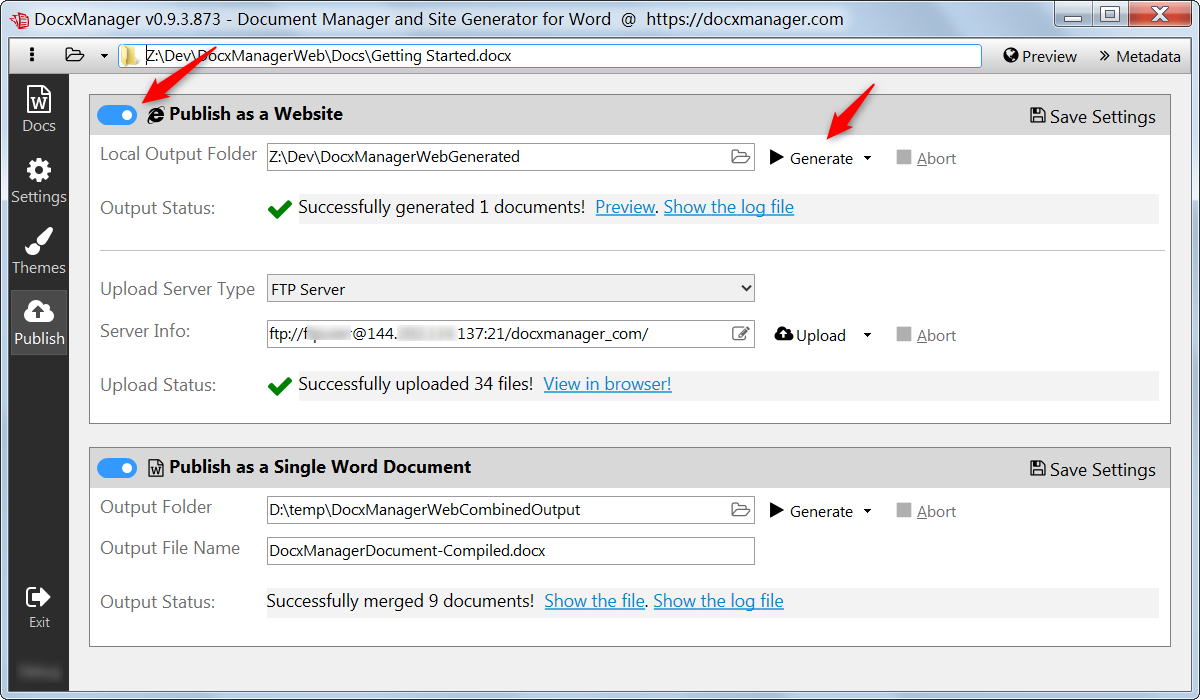 7.
Upload to Remote Web Server
Once the site generation is completed, you can upload the generated site to your remote web server.
You can choose FTP as the type of your remote file server and then you double click the Server Info box to input your file server's info (you usually get this info from your web hosting company).
Finally you click the Upload button and wait for the upload process to complete. Once it's done your site will be ready for the world!